INNOVATION
Chris Wheeler Construction Ltd is a company with vast experience in the fencing sector of the construction industry and has used that experience to develop innovative products and equipment that allow us to increase production and lower costs, to the benefit of our clients.
The developments include:
Our company has developed a Department of Transport approved design of environmental barrier called Timbersound in which we have a unique method of fixing the horizontal rails to the steel posts which ensures that all the timber works are contained within the web of the steel posts which produces a neat and tidy finish and also prevents any unauthorised removal but has the added advantage that should any units get damaged, repairs can be quickly under taken. Our environmental barrier is also designed that it can accept the attachment of safety barrier. More information on Timbersound can be seen by clicking here.
Our company has invented a post planting machine which is based on a four wheel drive unit with a drop weight that pre-forms a slot in the ground into which the posts are then hydraulically pushed. This eliminates the use of concrete foundations and it has been proved that the posts are firmer and from tests carried out the posts have a far greater chance of reaching the 40 year target sought by the Highway Agency. Our method also prevents damage to the top of the posts which can be caused if the posts are directly driven into the ground.
Our company has also developed and built an in-house mobile safety barrier driving rig with dual driving hammer, which is a self-contained unit mounted on a tractor artic unit complete with compressors. The machine itself is small enough to enable it to be manoeuvred in tight areas and does not clog up the works like some of the normal driving rig units that are mounted on a conventional type lorry.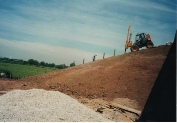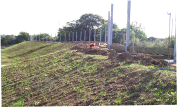 Timbersound environmental barrier being erected.
Post planting machine at the second Severn crossing.